What are two things in this world that we love deeply? Celebrities and Halloween costumes! If you agree, then today is your lucky day, because we've compiled a list of the best celebrity Halloween costumes that have ever been worn. When you see some of these whoppers, you'll be surprised that you ever let them pass you by.
Nicole Scherzinger: Cleopatra
Singer Nicole Scherzinger does not normally need any form of added assistance in being drool-worthy. However, on Halloween, she really upped her game and brought us this ancient Egyptian look.
Nicole as Cleopatra is quite a sight we must say. Halloween is an excuse for people to dress however they want, and often much different than they normally would, not just for celebs. People everywhere allow themselves to walk about town to parties in what they may never have worn otherwise.
Bette Midler: Marie Antoinette
Like we said in the introduction, Bette Midler, the icon and legend, is on this list. We loved her in Hocus Pocus and would have loved to see her recreate that character. Alas, we got this cool look instead.
Bette as Marie Antoinette is pretty great as well. She is very good at mastering the dated look, and this one is super, super dated. Bette has recently been seen on the show The Good Place and people are happy to see her on the small screen again.
Chrissy Teigen: a star on Toddlers & Tiaras
Leave it to Chrissy Teigen to dress up as something funny and not only look adorable, but also mock a reality show that is… controversial, to say the least.
Chrissy is dressed as one of the little girls on Toddlers & Tiaras. The TLC show is about child beauty pageants and all the drama that comes with them. Chrissy did her due diligence and dressed exactly like one of the girls and we have to say that we are loving it.
Mariah Carey: a Famous Amos cookie
Mariah is always stepping out in looks that make our jaws drop. Here, the songstress is dressed as a Famous Amos cookie!
We have to give her an A for originality and have to say that she looks phenom in her costume. This diva sure knows how to wow a crowd with her unique outfits, and this costume definitely proves that. We wonder what she is going to be dressed as this year, the Cookie Monster perhaps?
Coco and Ice-T: Soldier and gangster
With Coco and Ice-T you are guaranteed two things – Coco to be wearing something ultra shocking, and Ice looking very dapper. The actor and rapper is dressed up as a gangster and Coco is a seductive soldier.
Perhaps she pulled this number out of the role-playing closet that she so proudly mentioned on the couple's former reality television show. As long as they keep on keeping on and being as in love as ever, we don't feel the need to ask questions.
Natalia Vodianova: Jeff Koons balloon animal
Natalia, a supermodel, philanthropist, and overall boss lady, dressed up as a Jeff Koons balloon animal for Halloween and we are so incredibly impressed with her originality we can't really handle it.
She may be hiding her famous curves under all of that red balloon formation but she is still showing that mega watt smile of hers and the face that launched one thousand ships. Oh, that was Helen of Troy. Same, though. Either way, A+ to Vodianova for this look.
Kylie Jenner: Christina Aguilera's "Dirty"
Kylie needs no introduction, and this Halloween costume doesn't either. We have all seen Christina Aguilera in the "Dirty" video and loved how she looked.
Now, Kylie dressed in the same fashion and is giving Ms. Aguilera a run for her money. No one can do it like the original, but Kylie's idea for this costume is amazing and a very big compliment to Christina. Kylie proved that she has what it takes to rock the "Dirty" outfit and we are quite impressed.
Poppy Delevingne: Harley Quinn
Harley Quinn was one of the most popular costumes after the film Suicide Squad came out. Model Poppy Delevigne decided to do her own homage to the character and dress up as the psychotic Quinn.
She had the signature two-tone hair, the perfect makeup job, and the same crazy look in her eye. We tried that look ourselves, but it was not nearly as cool as the way Poppy did it. Perhaps it's the professional costume, hair, and makeup that did it?
Bruce Willis: The Shining
A dude! And not just any dude, Bruce Willis! He and his friend decided it would be hilarious to dress up as the twin girls from The Shining.
This is not only original, but seeing Bruce in a dress is quite a sight for sure. What a secure man to dress that way, he can do no wrong that Willis. His acting is stellar, his priorities seem to be intact, and he is always going to have our Die Hard hearts!
Heidi Klum: Jessica Rabbit
We promised you some Heidi Klum and we are ready to deliver! Our favorite Klum costume is her Jessica Rabbit portrayal.
First of all, she looks nothing like herself, which she usually goes for, but has also added the, ahem, physical attributes that Jessica Rabbit had. Heidi went full-on prosthetics for this look and it is absolutely amazing. She has had many other impressive looks in the past, like the old lady costume and an Indian goddess, but this one is just incredible.
Gigi Hadid: Sandy from Grease
As if model Gigi Hadid needed any help looking amazing, she did decide to dress up as Sandy from Grease for Halloween. Now she did not choose the "good girl Sandy", but rather the "bad girl Sandy" with the black leather look.
Boy, are we happy she chose this version! She took the role very seriously, giving the smoldering look that matches the outfit to perfection. We are pretty sure the photographers were beside themselves – with chills multiplying.
Kim Kardashian: a skeleton
Kim K. has had a lot of costumes over the years, and while this one is not the most "out there", it is very impressive considering it is a lot of body makeup and a super tight body suit.
You have to have a rocking body to pull off this kind of costume and Kim sure did live up to par for this one. Getting all of that makeup off must have taken forever though.
Iggy Azalea: Cruella Deville
Singer Iggy Azalea outdid her usual style with this Cruella Deville look, Dalmatian dog included.
The character was first animated and then played by Glenn Close (that's one tough act to follow) but Iggy pulled out all of the stops for her rendition and managed to master the difficult look and the chic vibes that are definitely necessary to play Cruella. She seems to have put a lot of effort into this look and it definitely paid off.
Evan Rachel Wood: Magenta from The Rocky Horror Picture Show
Actress Evan Rachel Wood loves very cult and cool things, so it makes sense that she would dress up as Magenta from The Rocky Horror Picture Show.
She dressed up to perfection and walked the event she went to with such obvious pride because she knew she had a winning costume on her hands. Evan even looks like the actress who originally played Magenta, too. The longtime actress knows what she is doing in the makeup department.
Demi Lovato: Selena
Demi is proud of her Latin roots, so it makes sense that she would pay homage to one of the greatest Mexican singers off all time, Selena.
Lovato has an uncanny resemblance to the late singer, and really put her all into this costume. Demi has always taken Halloween very seriously and loves playing around with costumes and makeup. Selena would be proud to have a singer like Demi honor her in this way for sure.
Ellie Goulding: Dolly Parton
English songstress Ellie Goulding dressed as country legend Dolly Parton for one Halloween.
The style of these two women in terms of singing could not be more different from one another, but we love that Ellie honored Dolly by dressing like her. We wonder how Dolly felt about the costume. Honestly, all you really need is a good high blonde wig and one of Dolly's signature long-sleeved shirts, and it's a knockout costume for sure!
Imaan Hammam: Slash
Imaan Hammam is a model from The Netherlands. Her unique look comes from her Moroccan and Egyptian background. For one Halloween, Imaan decided to go really wild and dressed up as Slash!
The Guns N' Roses guitarist was hopefully super flattered that a stunner such as Imaan took him as inspiration for her Halloween costume, and did it so well, too She is photographed here with two other models, who, try as they may, simply cannot outshine her in that getup.
Jared Eng and Jaime King: Clown from It and Joyce Byers from Stranger Things
One, this is creepy. Clowns are not everyone's cup of tea, so sorry if this freaks you out. Two, Jaime King dressed as Joyce Byers from Stranger Things is probably the best costume we have ever seen.
The originality is incredible and the fact is, Jaime, pulled off the costume so well we have nothing else to say other than kudos on the great idea. Oh, and along with the majority of the population, we are obsessed with Stranger Things.
Justin Timberlake and Jessica Biel: Buzz Lightyear and Jessie from Toy Story
Family costumes for the win! Justin Timberlake and wife Jessica Biel did it up right for Halloween, dressing as Buzz Lightyear and Jessie from Toy Story. In addition, their little son was dressed up as none other than Woody.
This is such a sweet (and smart) way to dress up as a family on Halloween. As if we needed another reason to be in love with Justin Timberlake. The only time he makes us want to cry a river is when we remember that Jessica got to him first.
Beyoncé, JAY-Z, and Blue Ivy: Barbie and Ken
Another family costume win here. Jay Z and Beyonce dressed up as Barbie and Ken for their daughter Blue Ivy, who is (rightfully) obsessed with the dolls.
She is wearing a barbie jacket to make sure that the world knows that this is a group costume. Obviously no one would ever dare to leave Blue Ivy out of the family costume, no ma'am! Devoted parents they are to go all out like this, that is for sure.
Rita Ora: Poison Ivy
Rita Ora is an actress and a singer and is ridiculously good at both. This talented woman is also a master of Halloween. Here she is dressed up as Poison Ivy.
Kim Kardashian dressed as this character a few years ago, and while she also nailed it, Rita definitely does look pretty impressive here. She pulls it off with her crazy curves and seductive look. We are sure that this look probably made girls everywhere green with envy.
Alessandra Ambrosio: Cher
Leave it to Alessandra Ambrosio to dress up as Cher and absolutely kill the game! The Victoria's Secret model stunned everyone with this look, even Cher would probably bow down to this one.
She is pictured here with her now ex husband. Her abs are on full display and there probably is not a single person in this world complaining about it. The hair extensions she added to emulate Cher's long mane is also a nice touch.
Khloe Kardashian and Tristan Thompson: Khaleesi and Khal Drogo from Game of Thrones
Game of Thrones costumes really are the best. Khloe Kardashian and Tristan Thompson dressed up as Khal Drogo and Khaleesi for Halloween and took the world by storm!
Tristan is already a tall guy so it's not too far fetched that he can pull off this character. Khloe was fully dedicated to the role as she had the blonde wig going strong here and the serious Khaleesi look in her eyes. We can't wait to see what they will get up to this year.
Alessandra Ambrosio: 'The Last Unicorn'
Alessandra Ambrosio is the type of woman who if you've never heard of before, you're probably wondering why you haven't, and now you're wishing that you had.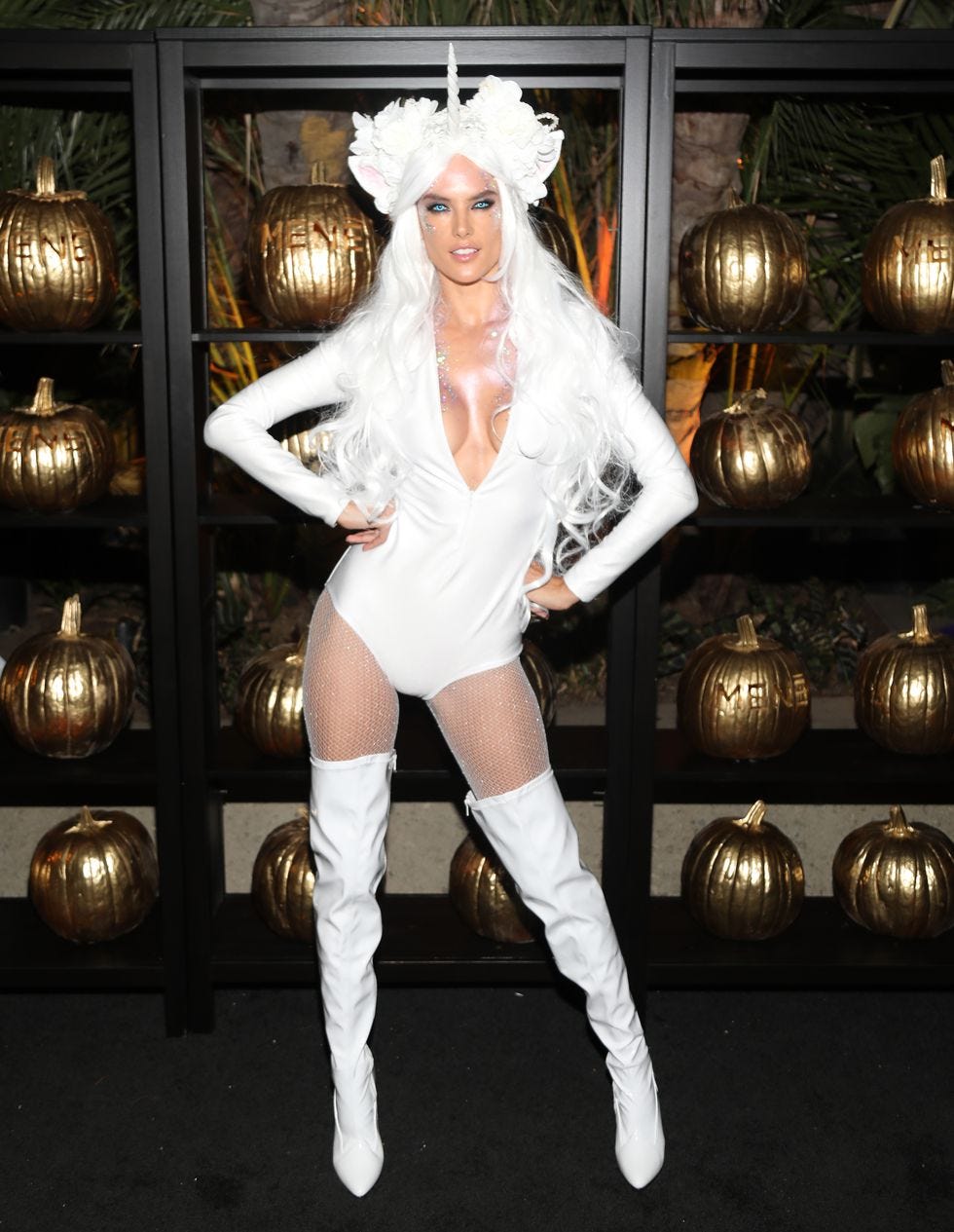 But for those of you who aren't so much in the the "know," have no fear. Alessandra is a world famous Brazilian model who is known for her work on in her photoshoots, as well as her ability to look awesome in Halloween costumes – including this "Last Unicorn" outfit she wore in 2017.
Kendall Jenner: Buttercup from Powerpuff Girls
We all remember jumping on the couch as kids, getting excited to watch our favorite cartoon network shows.
One of those shows was Powerpuff Girls, and it seems as though Kendall Jenner was watching it just like the rest of us were. As you can see, she chose to dress herself up as Buttercup, the grittiest girl of the three, and she certainly pulled off the outfit. Even though we didn't get to see Blossom or Bubbles, we're not complaining.
Karlie Kloss: Marilyn Monroe
Karlie Kloss may be known around the world for her outstanding work she's done over the years as a Victoria's Secret model, but she is by no means above paying homage to the pop culture icons that laid the groundwork for everyone.
It would seem that Marilyn Monroe is the ultimate pop culture icon in her eyes, and this is why she decided to dress up as her for Halloween in 2017. We'd have to agree with her, and commend her on her ability to pull it off.
Claudia Schiffer: Pink ranger from Power Rangers
Yet another hypnotizing model, and actress, who's made men drool over their fingertips over the years, Claudia Schiffer is a catch on many levels. And yet, we didn't realize that she was a Power Rangers fan.
If this picture informs us correctly, it would seem that Claudia is a big fan of Kimberly, the "pink ranger." We think she has managed to restore our nostalgia in the series in a way that no film reboot could have ever done.
Emily Ratajkowski: Marge Simpson
No matter what kind of entertainment you like to watch, we all need a little bit of humor in our life.
For a lot of people, The Simpsons was that very source of humor for decades – and it seems that Emily Ratajkowski is part of that particular demographic. Here we see her dressed up magnificently as Marge Simpson, the matriarch of the Simpson clan. We truly are impressed with the way she did up her blue hair, along with the whole outfit to match as well.
Paris Hilton: Warrior princess
You gotta love Paris Hilton. Wherever you may go in the Hollywood circuit, she always finds a way to pop up every now and again. The movie business, the television business… even the music industry got a taste of Paris for a little while.
And now it seems that the costume business is enjoying her creative labors as well. Of course, none of us are complaining that she decided to dress as a warrior princess. In fact, we're quite happy she joined the party.
Kendall Jenner and Cara Delevingne: Mario and Luigi
Calling all fans of the best video game to ever grace our television screens – Super Mario Brothers! Okay, we won't be bullies in this scenario, but you have to admit that it's an absolute classic.
And guess what… Kendall Jenner and Cara Delevingne clearly agree with us too. If they didn't, they wouldn't have dressed up as Mario and Luigi for Halloween in 2014. Yes, that's right, Kendall and Cara are on the Mario bandwagon – sure you don't want to join?
Tom Brady and Gisele Bundchen: Dorothy and the Cowardly Lion
"We're of the see the wizard, the…." Oh wait, now isn't the time for singing. We got excited there for a moment, but let's just hold off on that for a bit.
Instead, we'll talk about the subjects of these superb Halloween costumes – Tom Brady of the New England Patriots and his wife, supermodel Gisele Bundchen. We truly want to commend them on their awesome costumes, although we admit it's weird to see Dorothy kissing the Cowardly Lion…
Kate Middleton: Witch
While everyone is focusing on Duchess Meghan Markle and her marriage to Prince Harry, it's time to bring your attention back to Duchess Kate Middleton – because believe it or not, this girl knows how to dress up for Halloween.
Right when you thought that Kate was all about dressing proper for the Royal Family, here's a snapshot that shows that even she can let her hair down occasionally. Hey, everyone's entitled to have some fun, right?
Zooey Deschanel: Tinkerbell
Years before Zooey Deschanel had her own television show, and was well known across the world, she was basically Hollywood's best kept secret.
This picture is actually all the way back in 2002, and you can tell by how young she looks here. Back when she was appearing in cult classic films like The New Guy and Almost Famous, she was attending Halloween parties such as these and dressing up as Peter Pan's magical friend Tinkerbell.
Joe Keery: Harry Potter
Now it's time to speak about a subject that is very close to our hearts – the wonderful and magical world of Harry Potter.
Whether or not you recognize this actor, you undoubtedly must know who he's dressing up as – the boy who lived himself. That said, you should know who Joe Keery is as well, given that he stars in one of the most popular modern shows of today – Stranger Things. Go ahead, we'll wait while you check it out.
Channing Tatum: Unicorn
There are many reasons we love this picture. One of the obvious reasons is the fact that Channing Tatum as made the decision to dress up in a snuggly purple unicorn outfit. Isn't that just precious?
But it our opinion, it's more than just the costume. It's the fact that he's wearing it like it's truly no big deal. Sitting nonchalantly in the driver's seat, he's owning that costume like it's nobody's business – and he's one hundred percent right.
Justin Timberlake and Jessica Biel: Trolls
Have you ever heard the term "relationship goals?" If you were wondering what it means, just take a look at these two.
They are practically the cutest couple around, and very much a power couple when you consider how successful both of their careers have been. But more importantly, they are clearly very family oriented. We've already shown you a picture of them as Buzz and Jessie, and now here they are as trolls from the children's movie Trolls.
Allison Williams: Belle from Beauty and the Beast
You might know Allison Williams for her outstanding role in the psychological horror film Get Out. Or you might know her from the drama series Girls.
Either way, you know that she's an awesome actress, and therefore it should be no surprise that she'd be killing it as Belle from Beauty and the Beast. Some girls are just made to look like Disney princesses, and Williams has got that trait written all over her DNA.
Jessica Alba and Kelly Sawyer: Romy and Michele
How well do you know your 90s movie history? Romy and Michele's High School Reunion is a cult classic film from that era that starred the likes of Mira Sorvino and Lisa Kudrow from Friends, and it seems likes it's getting it's respect these days.
In 2015, Jessica Alba and Kelly Sawyer decided to dress up as Romy and Michele for Halloween, and they did such a good job that we honestly think they look like they could be in high school.
Miranda Kerr: Ringmaster
As we've already acknowledged, worldly models are obviously very good at capturing people's attention, and this fact is no less true when it comes to Halloween.
Australian model Miranda Kerr knows this quite well, and played into that when she hosted a rooftop Halloween party in New York City back in 2011. She dressed up as a ringmaster, and we're truly sorry we weren't able to attend – although we certainly did appreciate the invite nonetheless.
Rita Ora: Barbie
We're always hearing crazy stories about girls who fantasized about looking like Barbie so much that they transformed their entire life around it.
This scenario may not be as extreme, but we have to say that we're very impressed with the way that Rita Ora put together this outfit. The whole ensemble is very natural, and it doesn't appear forced at all. We truly think she deserves her own dream house, and we probably won't have trouble finding a "Ken."
Taylor Swift: Pegacorn
If you're sitting there thinking to yourself that you don't actually know what a "pegacorn" is, we have a confession to make: neither did we at first.
That said, we can say confidently now that a pegacorn is essentially a unicorn with wings, and Taylor Swift was happy to dress up as one for Halloween in 2014. She certainly looks like an excellent pegacorn, and we hope she dresses up like that at her next concert. Think her fans will be mad?
Chloë Grace Moretz: Zombie witch
Chloë Moretz is an actress who has been on the rise for quite some time now, and she's one of those talents whose ceiling is quite high.
Having starred in a number of hit films such as If I Stay and Neighbors 2, she is already a household name in Hollywood, meaning that all eyes are on her when Halloween comes around. As you can see, she rocked the classic zombie witch look at a 2012 London bash, and made it look easy in the process.
Jessica Simpson and family: Braveheart theme
There was a time when you couldn't open up a People magazine without running across a picture of Jessica Simpson.
Although her media presence has calmed down modestly over the years, she is still around for us to follow her from time to time. As you can see, her and her husband Eric Johnson, along with their son Maxwell, are dressed in Braveheart themed Halloween costumes, and their dedication to the ensemble makes it clear they want their freedom.